Commercial and Industrial Asbestos Removal and Abatement in Los Angeles CA
24/7 Emergency Services 888.656.0273
Safe, EPA Certified & Always Available
Quick Turnaround Capabilities
Reasonable Rates
EPA Lead Safe Certified Firm
We Use Biodegradable Green Products
Use of High-Tech, Non-Invasive Equipment
ERC specializes in industrial asbestos abatement and is a licensed and registered Industrial Asbestos Removal Contractor.  ERC's technicians have decades of experience dealing with commercial asbestos abatement on projects ranging from small residential projects to large industrial projects. We are one of the biggest commercial asbestos removal contractors in the Los Angeles CA area and work with some of the biggest companies in Orange County.  What makes ERC unique is our ability to handle water damage claims where asbestos is present. ERC's cross certification in asbestos removal significantly reduces your liability and more importantly your exposure to this carcinogen. We take care of removing and disposing of asbestos pipe and tile in a manner that is safe for everyone who lives or works in your facility.
Licensed and Certified Los Angeles Commercial Asbestos Abatement and Removal Company
Returning your Los Angeles CA commercial or industrial property to a safe, sanitary condition in a timely but cost effective manner is what ERC does best.
Our experienced and certified commercial asbestos removal technicians are ready to help you!
Call us for professional and quick service!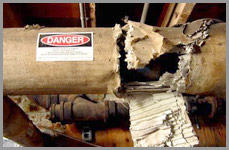 What is asbestos and why do I need industrial asbestos abatement in Los Angeles CA?
Asbestos in a naturally mineral fiber found in rock and soil.
Because if its strength and resistance to heat, asbestos fibers were once widely used in in many construction materials and manufactured products such as flooring, insulation, spray-on "popcorn" ceiling treatments, roofing shingles and others.
Asbestos fibers may be released into the air by the disturbance of asbestos-containing material during product use, demolition work, building or home maintenance, repair, and remodeling. In general, exposure may occur only when the asbestos-containing material is disturbed or damaged in some way to release particles and fibers into the air.
When people become exposed to asbestos, serious health problems can occur. Inhalation of the fibers increases the risk of lung disease, mesothelioma and asbestosis. It is very important that when the time comes to remove this harmful material it is done by a fully licensed and experienced asbestos contractor who can safely remove the asbestos from the property and perform complete, safe asbestos remediation.
If you suspect material contains asbestos, don't touch it. Look for signs of wear or damage such as tears, abrasions, or water damage. Damaged material may release asbestos fibers. This is particularly true if you often disturb it by hitting, rubbing or handling, or if it is exposed to extreme vibration or air flow. The safest option is to call an asbestos removal company immediately.
Learn more at the EPA website.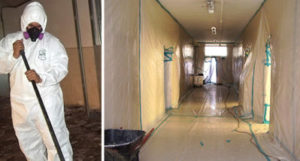 ERC is licensed by the California State Contractors Licensing Board (CSLB) in the State of California- License # 803905 and is registered with the California Department of Industrial Relations, Division of Occupational Safety & Health (DOSH) # 843 as a licensed Industrial Asbestos Abatement Contractor. ERC's asbestos cleanup technicians have decades of experience dealing with commercial asbestos removal on projects ranging from small residential projects to large industrial projects. When choosing an asbestos abatement company, be sure to choose us as your commercial asbestos abatement contractors.
ERC offers a comprehensive list of certified commercial asbestos abatement Los Angeles services:
Floor Tile/Linoleum Removal
Duct Insulation Removal
Attic Insulation Removal
Asbestos Cement Pipe Removal
Drywall/Joint Compound Removal
Pipe Insulation Removal
Boiler Insulation Removal
Furnace Insulation Removal
Stucco/Plaster Removal
Disposal and removal of asbestos pipe and tiles

Window Putty Removal
Roofing Removal
Asbestos Disposal/Debris Removal
Demolition Services
Underground Asbestos Pipe Removal
Crawl Space Decontamination
Contents Decontamination
Transite Pipe Removal and Disposal
Complete Asbestos Remediation
Other Asbestos Removal Services
Available 24/7
For some of the cities that we service in the Los Angeles CA area, click here.