Lead Paint Removal in Irvine CA
Need Help Fast?  Call 888.656.0273
EPA Lead Safe Certified Firm
We Use Biodegradable Green Products
Use of High-Tech, Non-Invasive Equipment
Safe, Certified & Always Available
Quick Turnaround Capabilities
Reasonable Rates
ERC is the leading provider of commercial lead paint removal and abatement services in the Irvine CA area.  Our professional lead abatement team has decades of experience with lead abatement & removal and can handle both large and small projects.  They can securely remove lead-based paint from any commercial or industrial property and ensure safety to anyone that comes in contact with the area by eliminating any presence of lead.
The presence of lead paint and the abatement process should not be taken lightly.  It takes proper planning, equipment, and a strict adherence to EPA guidelines to ensure the health and well-being of both the workers removing the material and the surrounding environment. Only a professional commercial lead paint removal contractor with the right certifications and experience should handle the removal and abatement of lead paint.
Certified Industrial Lead Abatement Contractors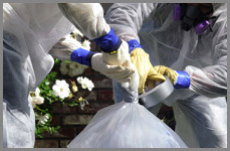 ERC's commercial lead abatement technicians are trained professionals that are certified by the California Department of Public Health (CDPH) and the U.S. Environmental Protection Agency (EPA) to conduct industrial Lead-Based Paint Removal as well as Lead related renovation, repair & painting related work. Providing cost effective industrial lead paint abatement services is ERC's specialty. ERC uses EPA Lead-Safe work practices. Whether your lead project is under the jurisdiction of CDPH, EPA, Housing & Urban Development (HUD) or all of the above, ERC has the expertise, personnel, equipment and technical know how to accomplish any commercial lead removal project while protecting your family, employees and your investment.
Dangers of Lead Paint Exposure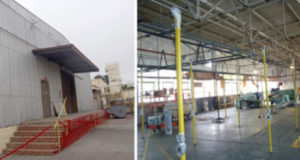 Lead is highly toxic metal that was commonly used in the manufacturing of paints before 1978. Lead remains a danger in and around older buildings and in certain work environments. It is common, when remodeling, lead dust can be released into the air. When lead is absorbed into the body, it can cause damage to the brain and other vital organs, and in extreme cases, death.  Symptoms of lead poisoning include insomnia, stomach pains and cramping, aggressive behavior, anemia, constipation, headaches and irritability.  ERC will help determine the presence of lead and implement the necessary steps for commercial lead abatement.
ERC offers a comprehensive list of lead-based paint removal services in Irvine, including:
Interior Lead-Based Paint Removal
Exterior Lead-Based Paint Removal
Chemical Stripping
Interior/Exterior Paint Film Stabilization (Prepare Lead-Based Painted Surfaces for Re-painting)
Power Washing Building Exterior with Water Recovery
Lead-Based Paint Contamination Clean-up

Lead-Based Paint Due to Lead Poisoning
Lead Contaminated Debris Removal
Lead Debris Disposal
Lead-Based Paint Building Component Removal
Lead Contaminated Soil Removal
Lead Contaminated Water Filtration/Removal/Disposal
EPA Certified Firm # NAT-116833-1
Other Lead-Based Paint Related Services
Available 24/7
Providing industrial lead paint removal Irvine CA including 92602, 92603, 92604, 92606, 92610, 92612, 92617, 92618, 92620, 92630, 92676, 92780, 92782.
We also provide lead removal services to areas such as Aliso Viejo CA and Fullerton CA.